Faster Fibre Upgrade Offer
Get up to $1,000 credit for a limited time when you upgrade to faster fibre with TasmaNet!
---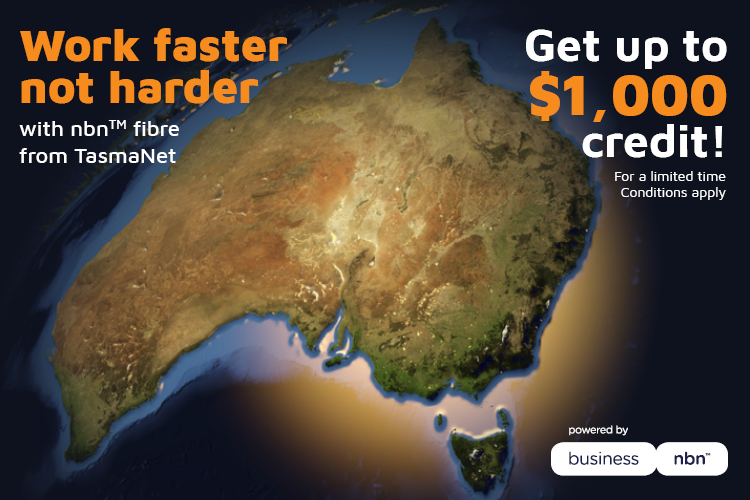 Upgrade to faster nbn™ fibre with $0 build cost + get up to $1,000 TasmaNet credit!*
Get a dedicated superfast nbn™ Enterprise Ethernet fibre connection to your business and we'll credit your TasmaNet account up to $1,000:
50/50 Mbps - 250/250 Mbps service = $600 credit
300/300 Mbps - 1000/1000 Mbps service = $1,000 credit
700,000 Australian businesses can now get nbn™ Enterprise Ethernet fibre up to 67% cheaper with $0 fibre build cost - ask us if your business is one of them!
*$0 fibre build cost subject to nbn™ site qualification and 36 month contract term. Credit offer applies to new connections ordered before June 30, 2021. Limits and exclusions apply, see full offer terms and conditions for more information.
Why Choose nbn™ Enterprise Ethernet from TasmaNet?
Available nationally within the nbn™ fixed line network footprint
Genuine business grade performance and 24/7 support options
Symmetrical download/upload speeds up to 1 Gbps
Expert support from our 100% Australian team & business nbn™ NOC
Power voice, video, and data & unlock cloud business technology
Enterprise Ethernet was a logical choice for MyTyreSite. I've got 15 people relying on good connectivity and every outage is a loss to the business, so being able to get a single pipeline means we no longer have to share our connection. We opted to start with a smaller pipeline and I see us upgrading that pipeline as the business grows.
Want to learn more about upgrading to faster fibre?
Complete this form to get in touch with the TasmaNet sales team.