Friends & Family Internet
For everyone who's done with overcrowded, overpriced, over-complicated home Internet!
---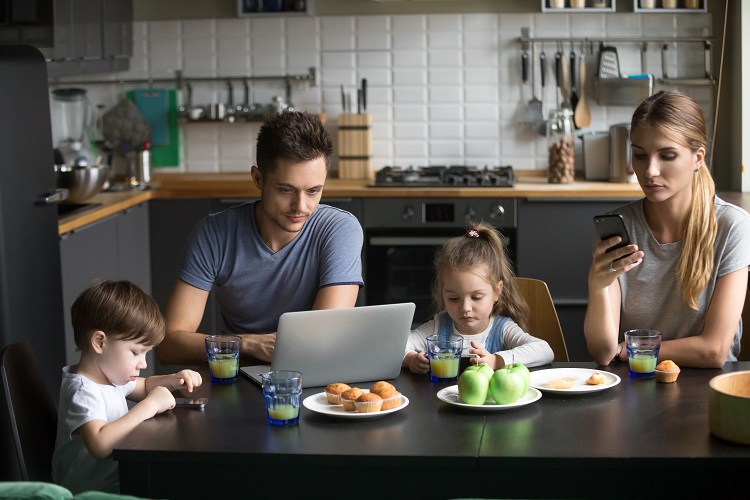 We've connected friends and family for years with no-frills nbn™ plans. With unlimited data and no lock-in contract these basic plans are probably the least crowded residential Internet on offer. Ask your current provider how their contention ratios compare and become friends with us!
Available nationally over nbn™ fixed line and fixed wireless
Unlimited data
Choose the speed tier that suits your family
Family-friendly subscriber ratios
No lock-in contract
Choice of WiFi Modem or Bring Your Own
100% Australian support
Fast online sign up and easy monthly billing
Plans to suit the most bandwidth-hungry family
Friends & Family 50 or FW Plus
$79

per month
nbn™ 50/20 or Fixed Wireless Plus Speed Tier
Unlimited Data Usage
200:1 Contention Ratio
$0 Connection Fee
Choose a Modem or BYO
No lock-in contract
Fixed Wireless HFC FTTN FTTC FTTB FTTP
Connections
Minimum cost $79 over 1 month
Friends & Family 100
$100

per month
nbn™ 100/40 Speed Tier
Unlimited Data Usage
200:1 Contention Ratio
$0 Connection Fee
Choose a Modem or BYO
No lock-in contract
HFC FTTN FTTC FTTB FTTP
Connections
Minimum cost $100 over 1 month
Friends & Family 250
$250

per month
nbn™ 250/100 Speed Tier
Unlimited Data Usage
200:1 Contention Ratio
$0 Connection Fee
Choose a Modem or BYO
No lock-in contract
FTTP
Connections
Minimum cost $250 over 1 month
Why choose TasmaNet Friends & Family Internet?
Unlimited data means the whole family can stream the content they want, when they want, without you worrying about bill shock or your service speed being throttled back unexpectedly
Sick of your internet slowing down when everyone in the house gets online at once? We provision Friends & Family plans at the 50Mbps, 100Mbps, and 250Mbps tiers to suit every household size
Unlimited data counts for nothing if you can't use it. We keep our contention ratio low to ensure that your home movie, TV, and music streaming doesn't get bogged down - no matter what time you're online
These no-frills plans are built to just work, but our 100% Australian customer service team will get you back online if something does go awry
Not all nbn™ connections are equal. We connect Australians everywhere, and we'll help you get the best outcome whether you're on wireless or fibre
These great value plans are available for fast sign up nationally using the nbn™ fixed line and fixed wireless network. Tell your family! Tell your friends!
Catholic Education Tasmania
Students can access world class online learning no matter where their school is located, thanks to a dependable superfast network from TasmaNet using nbn™ Enterprise Ethernet dedicated fibre.
MyTyreSite.com.au
Growing Tasmanian online business MyTyreSite.com.au is competing nationally and internationally thanks to dependable, symmetrical, high-speed Internet delivered over dedicated fibre.
How Enterprise Ethernet can help you
Improved student access to high-quality digital education resources, and workplace productivity gains are some of the benefits nbn™ Enterprise Ethernet is delivering for TasmaNet customers.
Enterprise Ethernet was a logical choice for MyTyreSite. I've got 15 people relying on good connectivity and every outage is a loss to the business, so being able to get a single pipeline means we no longer have to share our connection. We opted to start with a smaller pipeline and I see us upgrading that pipeline as the business grows.
FAQs
Speeds can be affected by factors within our control, such as the contention ratio of the service, and factors beyond our control, such as the content being downloaded by the end-user, your distance and the quality of the copper from the node or basement for services using FTTN and FTTB nbn™ connection technology, the location of your Wi-Fi router/modem, and the number of connected devices running through your router at the same time.
Use these guidelines to help you select the right plan speed to meet your expectations:
The nbn™ 50/20 Mbps speed tier suits 2-4 users streaming video, running multiple applications, or working from home
The nbn™ 100/40 Mbps speed tier accommodates multiple users actively online at the same time, using video conferencing and downloading and uploading large files
The nbn™ 250/100 Mbps speed tier powers business grade cloud solutions, high bandwidth applications, and large numbers of users
The nbn™ Fixed Wireless Plus wholesale tier aims to deliver the maximum potential wholesale speed the network is capable of delivering at the time of use, however actual service speeds may be impacted by network congestion on the nbn™ Fixed Wireless network and no performance guarantee is offered.
Ask us about Quality of Service (QoS) upgrade options to optimise your TasmaNet nbn™ plan for multiple VoIP phone lines and video conferencing.
Actual speeds of FTTN/C/B services will be confirmed after connection. TasmaNet will provide remedies to customers not able to achieve expected nbn™ speeds, including the opportunity to move to an alternate plan or to cancel the service within the minimum term without penalty.
If your premises has previously been connected to the nbn™ broadband access network, standard connection takes 1-5 business days and is usually completed within the first 24 hours. New connections to the nbn™ broadband access network will require a connection appointment which is typically scheduled within 2 and 20 business days, dependent upon the availability of nbn™ technicians. We will confirm your nbn™ connection appointment after receiving your service application.
No, you can bring your own! Note that, if your modem is not on our Supported BYO Modem list, the TasmaNet Service Desk team will not be able to diagnose or provide support for hardware issues with your service and may refer you to the manufacturer instructions for your modem.
No, but you are responsible for ensuring that the modem meets the required standard and is correctly configured. If your nbn™ connection technology is FTTN/B/C, your modem will need to support VDSL2+. The TasmaNet Service Desk cannot support modems that have not been purchased from TasmaNet unless they appear on our Supported BYO Modem list, and may refer you to the manufacturer of your modem.
Two Modem options are available for purchase at a special discount price + $15 flat rate postage to anywhere in Australia:
D-Link DVA-2800 $199 (RRP $329.95) Superior dual band Wi-Fi performance with full Gigabit Interface
D-Link DSL-G225 $99 (RRP $129.95) N300 Wi-Fi performance with dedicated Gigabit Ethernet WAN port
All Modems purchased from TasmaNet are covered by the manufacturers' warranty.
No, all TasmaNet Business, Home Office, and Friends & Family Internet plans have a $0 connection fee and can be cancelled by providing 30 days notice. If you are in a new development area and not already connected to the nb™ broadband access network, a New Development Charge may also be applied by nbn™. Any applicable charges will be itemised at checkout before you confirm your purchase.
If a 12-month contract is more suitable for you, please contact our Sales Team to discuss your requirements so we can best help you
Some devices normally connected to a phone line will need to be registered with nbn™ directly such as medical alarms, monitored fire alarms, and lift emergency phones. Other devices to consider are security systems, fax and teletypewriter devices, EFTPOS terminals, health claim terminals, and existing landline phone services. We recommend contacting your current provider or manufacturer to ensure your specific device or service is compatible. To register your devices, visit the nbn™ website.
Learn more about upgrading your phone service or contact the TasmaNet Sales Team.
TasmaNet does not offer priority assistance services to customers with a life-threatening medical condition. Customers requiring this service should contact Telstra.
Want to learn more about uncrowded home Internet plans?
Complete this form to get in touch with the TasmaNet sales team.