TasmaNet's tips on learning from home during COVID-19
Security and connectivity for schools, teachers, students, and parents.
---
---
The current COVID-19 pandemic is creating unprecedented challenges across a wide variety of industries and businesses. These challenges, whilst they may seem overwhelming, can be overcome with the right systems and technologies in place.
Many Australian private schools have closed and Victorian public schools commenced term 1 holidays a week early, in a bid to help stem the spread of the virus throughout their student community. These schools are needing to quickly transform their curriculum into virtual lessons that students can complete from home.
This article has been co-written with one the country's most qualified Internet Security experts who also happens to work at TasmaNet. With this in mind, we present you with key 'things you need to consider' to ensure educational institutions are set up to win in a virtual learning environment.
TasmaNet and our associated technology partners have worked closely with many schools and educational institutions in the public and private sectors, to ensure they have the best telecommunications, security and technology to enable digital learning. It's not a new endeavour that we prepare and educate schools and universities about what they will likely need to do in order to transition to virtual learning and a successful learning journey at that.
Take a look at what we've done with Catholic Education Tasmania and St Michael's Collegiate to see what great outcomes you can achieve with the right technology in place.
Accessibility
One challenge we have worked through on numerous occasions is the fact that not all students actually have access to Internet, let alone high-speed Internet, in their own homes.
It is important as an educational institution that you are able to enable secure and fast Internet to all students so that each student has equal access to the learning material and resources from home during these times.

Speed vs Quality
With such a huge number of students accessing the learning materials simultaneously, speed can become a major issue and play havoc on the success of virtual learning. The setup of your infrastructure will play a role here. There's a lot of misinformation in this space which we think is vital to clear up. Namely, speed vs quality of connectivity.
Speed helps, however if your access is highly contended (many users at the same time), your Internet performance will be compromised. Quality Internet comes down to contention (once again, when there's many users at the same time) and bandwidth.
Questions you need to be asking:

How many users do you have?
Is it a quality connection at school? What's the bandwidth? Any service level guarantees?
The dependence on the speed and quality of the connection into the school can be reduced or completely removed by moving services to the Cloud. The use of Software as a Service (SaaS) over the Internet, Infrastructure as a Service (IaaS) and hosted firewalls in reliable data centre locations means that events affecting the school's connection or infrastructure will not affect the ability to deliver learning to students. It can be a relatively simple process to move traditional server-based workloads to IaaS, and brings additional benefits in areas such as backup and data protection.
Unfortunately, not all Internet connections in Australia are equal. What kind of connection technology are your students using at home?
Fibre to the Premise (FTTP) users: Have more bandwidth choice and are less likely to experience sub-standard performance.
Fibre to the Node (FTTN) users: Rely on the quality and distance of copper between their home and the node, actual performance can be highly variable across locations.
Fixed Wireless & 4G: Wireless services can only serve so many people at the same time. As peak load increases, unfortunately performance is quite often severely compromised.
Safety
Another common challenge is to address monitoring limitations and duty of care for schools where students use their own connections, both to ensure they are kept safe and are not accessing inappropriate sites, as well as to keep on top of issues such as cyber bullying.
Not only is the ability to report on what your students are actually accessing important, with the power to block sites that are not deemed to benefit the curriculum, but the ability to analyse which students specifically are accessing inappropriate content, or, importantly, flagged as engaging in possible cyber-bullying, so that these students, and if needed, their parents, can be communicated with accordingly.
It's important you can ensure a safe environment in which your students can engage in online learning via access to the internet, with the ability to react very quickly when situations arise that require fast responses, and the ability to refine processes, usage rules, and even accessibility as needed.
Having access to this information in a 'live' format to ensure that any potential risks to the students can be dealt with in real-time, rather than after the fact, is paramount.
Security
A fourth common challenge we've seen is security vulnerabilities that come with having a large student population learning virtually, accessing and downloading files, and potentially risking the data integrity of the school. Legislation makes it clear how important it is that educational institutions have a clear understanding of where personal data of students and their families is held, who has access to it, how it is accessed and. of course, if there are any data breaches.
To ensure your staff and students are able to safely traverse the Internet from a remote location, you'll want a secure and private connection across the public Internet, as well as the ability to verify the identity of the organisation when connecting to the network, sensitive applications, or protected data.
You can achieve this through:
A VPN: Which is a tunnel over the Internet, making a private path
Login credentials: Which will make an encrypted connection between two points. Data in the middle can't be seen by "eavesdroppers".
While your staff and students are accessing the Internet, they will come across both safe, and unsafe, files, whether this be via websites, in email links or from other sources. With more people working and learning from home, emails and links to files are only going to increase. It's important you're certain you know what's safe to open and what's not. How do you know the alert you just received was actually from dropbox? Is it really dropbox or is it a malware dropper site?
When you're in the office or at school, your organisation's firewall will protect you easily but, from your laptop or tablet at home, chances are you're not protected. See this guide from our Firewall technology partner Fortinet for more info on how you can increase your protection when working and learning from home.
Evaluating Your Learning from Home Readiness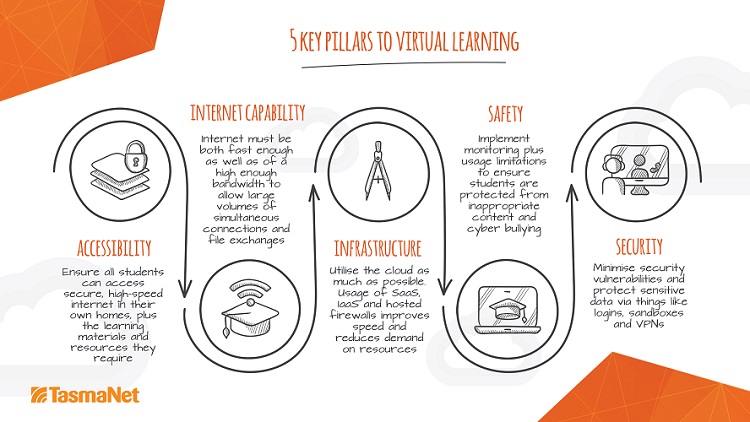 Here is the process that our technical team will go through to design their recommendation:
1. VPN Access
Is this required? If 90% of files are in the Cloud most students won't need VPN access. If the school is bringing all traffic back through the school network for filtering, then VPN access may be necessary.
2. Evaluate Performance of Existing Internet
Evaluate the Internet connection - is the current solution fast enough and will it hold up to a significant increase in usage with the students learning from home? We are confident that our nbn™ plans are some of the least congested in the business; be sure to ask your existing Internet provider how many users are sharing your bandwidth and feel free to be a bit concerned if they can't (or won't) tell you!
Reliance on school infrastructure can be minimised by moving applications to the cloud: this may be through a combination of SaaS applications such as Office 365 or Google Docs. This will ensure your services are running in a resilient, connected data centre location and can completely remove the reliance on the school environment (server rooms, equipment, connections). If you're looking to quickly upgrade your residential Internet to meet your increased bandwidth demands, be sure to check out TasmaNet's Home Office plans available for a limited time with no lock-in contract.

3. Decide on the Tools
Remote access tools are the first requirement. Students won't have the luxury of walking up to the teacher and asking for assistance so tools such as Team Viewer, Google Classroom, LogMeIn etc will be crucial to success of online learning programs. We always recommend moving to Office 365 or Google Schools environments, and will work with the customer for this step to analyse which tool will best suit their needs. Other factors you need to think about to optimise learning from home are the physical tools that enable concentration, comfort and ease. Schools and workplaces have desks, chairs, keyboards and sound partitions. Home is not always this friendly, so ensuring students have a keyboard, mouse and monitor will be important, as will noise cancelling headphones if possible.
4. Upskill
Next it's important to ensure that all staff and students are able to access and use all tools and platforms that they'll need to use in order to confidently complete their studies from home.
This step involves an evaluation of the current skills and knowledge of participants, and then moves into a plan to bridge any identified gaps for those who will need it, as well as set up training on any new tools that will be implemented.
5. Evaluate and Improve Security
We then take a look at the school's current solution and how much (if at all) the organisation is unintentionally exposing private or sensitive data on insecure devices; resolving this is a critical part of the proposed solution.
6. Support the Users
Finally, we take a look at how users are currently supported when at home or otherwise off-campus. We build any recommendations and findings into the overall solution strategy.
Educational institutions have a challenging time ahead of them as they are forced to very quickly transform due to the current rapidly-changing Coronavirus situation, and we hope the information in this article can help prepare schools, teachers, and students for the challenges and changes that they will likely need to deal with in the very near future.
Want to discuss how you can be prepared for a move to virtual education? We can help you rapidly migrate to a virtual solution, and have you prepared for future situations or crisis that demands a change to the way in which your students learn and your staff teach. Get in touch with TasmaNet today to find out more.
Subscribe!
Subscribe to be notified when we post new and exciting content to The Hub!