TasmaNet RCP Project Announcement
TasmaNet and Tahune Airwalk receive RCP Grant to fund ecological connectivity project
---
---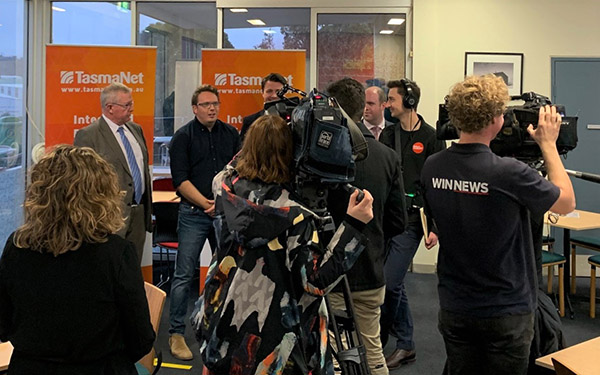 TasmaNet and Tahune Airwalk receive RCP Grant to fund ecological connectivity project.
TasmaNet is proud to enable world-class connectivity to the Tahune Airwalk and Warra Ecosystem Observatory in southern Tasmania.
As part of the second round of Regional Connectivity Program Grants from the Federal Government, The Hon Mark Coulton MP, Minister for Regional Health, Regional Communications and Local Government and Senator the Hon Jonathan Duniam, Assistant Minister for Forestry and Fisheries were joined by TasmaNet CEO Rob Vernon, Tahune Airwalk Director Ken Stronach and Dr Timothy Wardlaw of the ARC Center for Forest Value to announce the success of the Tahune Airwalk funding.
TasmaNet will work directly with the Tahune Airwalk and Warra Ecosystem Observatory in southern Tasmania in the upgrade of the existing communications network.
TasmaNet CEO Rob Vernon said, "The Tahune Airwalk is a major draw card for the Huon Region, and currently there is only a small area onsite where WiFi is available. From a tourism perspective, this limits the amount of promotion visitors can share online."

"During the devastating 2019 bushfires in the region, the lack of communication coverage around the site also hindered coordinating an effective response." Mr Vernon added. "Better connectivity is a huge safety benefit for the area, along with opening doors to new ICT technologies, including a new communication service at the Warra Ecosystem Observatory which will enable the facility to more efficiently collect and distribute important ecological research data."

"We'd like to thank the RCP Grant Committee and the Federal Government for realising the importance of this regional project."
Subscribe!
Subscribe to be notified when we post new and exciting content to The Hub!