TasmaNet delivers another nbn™ Australian first
Commissions first Enterprise Ethernet service in Australia.
---
---
TasmaNet became the first internet service provider in Australia to deliver superfast broadband using new nbnTM Enterprise Ethernet fibre technology after successfully commissioning a 1 Gbps connection for St Michael's Collegiate School in Hobart today.
Managing Director Joel Harris joined nbn Co CEO Stephen Rue, students and staff at St Michael's Collegiate School in Hobart today to mark the successful commissioning of the first Enterprise Ethernet connection in the country.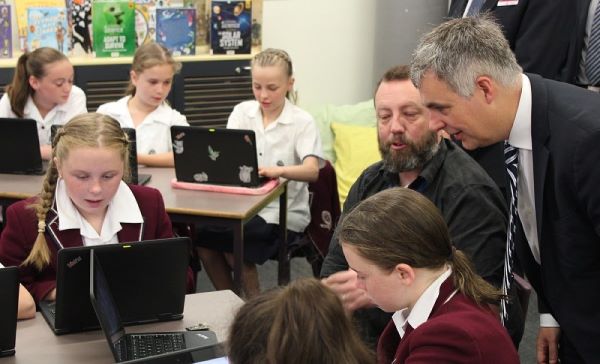 Mr Harris said that being first in the nation was becoming business as usual for the Hobart-based company.

"TasmaNet ordered the first 1 Gbps connection in Australia delivered over the existing National Broadband Network, in 2017 for a wholesale customer, and we worked hard to be first in Australia to order and deliver the new nbn™ Enterprise Ethernet fibre technology.
"We realised immediately how useful the new Enterprise Ethernet technology would be for the business, education, and government customers who rely on us to deliver specialised connection, data protection, and cloud computing solutions," Mr Harris said.
nbn™ Enterprise Ethernet requires a dedicated point-to-point fibre connection to be extended from the existing National Broadband Network into the customer's premises.
By bringing fibre optic cable to potentially any premises within the nbn™ fixed line footprint and delivering symmetrical data upload and download performance, Enterprise Ethernet offers a cost-effective way to achieve the kind of superfast, dependable fibre connectivity critical to future business innovation, education, and service delivery.

Mr Harris thanked St Michael's Collegiate School, nbn Co, and TasmaNet staff for making the milestone possible.
"St Michael's Collegiate Director of ICT Tim Innes-Brown is the kind of innovative IT professional TasmaNet loves to partner with; he understood how Enterprise Ethernet fit with Collegiate's focus on STEM and a digital learning environment and trusted our relationship enough to order the service on the first day it became available from nbn Co.
"Tim and TasmaNet Account Manager Brendan Cooper worked closely with nbn Co and our technical staff to ensure that the fibre build and service connection happened smoothly, and the project delivery has exceeded our expectations," Mr Harris said.
Mr Harris said that the milestone once again demonstrated how smaller regional technology companies could compete against their much larger rivals thanks to the nbn™ access network.
"TasmaNet was formed by a group of mates to bring digital services to poorly served communities in Tasmania, we've always been more focused on solving interesting problems that deliver the outcomes our customers need rather than bringing predetermined products to the mass market.
"TasmaNet decided early on to become one of the few accredited nbn™ Wholesale Service Providers in the country so that we could control every aspect of our service delivery without relying on one of the 'Big 4' telco companies who, directly or indirectly, have captured some 96 per cent of the Australian broadband market.
"We can deliver business grade, unlimited, uncrowded broadband nationally from our Tasmanian base using the nbn™ broadband access network, and the superfast fibre connectivity offered by Enterprise Ethernet unlocks the full benefits of our integrated networking, data protection, and cloud management platform."
Mr Harris said that developments like Enterprise Ethernet would help to grow the Tasmanian economy and increase demand for highly skilled IT employees in the state.
"High quality connectivity reduces Tasmania's traditional geographic disadvantage and means that the TasmaNet team can compete nationally and internationally while living in one of the best places on the planet – we love it!"
Subscribe!
Subscribe to be notified when we post new and exciting content to The Hub!